Section 179 with Kelly Montalbano

Section 179 Tax Deduction Limits for 2019:
The deduction limit for 2019 has been raised to a full one million dollars ($1,000,000) This is a substantial deduction, and means businesses can deduct the full cost of equipment from their 2019 taxes, up to $1,000,000. This can really make a difference to your bottom line at the end of the year. To take advantage of these high Section 179 limits for 2019, the equipment must be purchased and put into service by midnight 12/31/2019.
Use Form 4562 to claim your deduction.
---
A True Small and Medium Sized Business Tax Break:
Section 179 is squarely aimed at small to medium sized businesses that purchase anywhere from $5,000 to $2,500,000 worth of equipment. The full deduction can be claimed until that $2,500,000 number is reached. Once that happens, the deduction decreases on a dollar for dollar basis (when it disappears entirely once $3,500,000 worth of equipment is purchased.)
---
About the limits:
Most small and medium sized businesses will greatly benefit by taking the Section 179 deduction, yet to take advantage of it, the equipment must be purchased and put into service by 11:59pm, 12/31/2019.
---
A look towards the future:
Congress has stopped the Section 179 roller coaster of the past few years, and has made the Tax Deduction limit permanent. The limit was raised to $1,000,000 for 2019 and beyond. This is wonderful news for small and medium businesses, as they know early in the year that the deduction will be there for them, yet you do need to act to take advantage of it.
---
Section 179 Property – What Qualifies?
Almost any piece of new or used equipment can be considered qualifying property under Section 179. The equipment doesn't have to be new, but it must be new to the business taking the Section 179 deduction and placed in service before midnight December 31st, 2019. Qualifying Section 179 property includes, but is not limited to:
Machinery and industrial equipment
Tangible personal property used for business purposes
Business vehicles with a gross vehicle weight over 6,000 lbs
Business vehicles under 6,000 lbs limited to $11,160 ($11,160 for cars and $11,560 for trucks)
Digital cinema cameras, photography, camera equipment and accessories
Bakery equipment
Office Furniture
Computer Software (custom software excluded)
Office Equipment (printers, phone systems, computers)
Property contained in or attached to a building (other than structural components), such as refrigerators, grocery store counters, office equipment, printing presses, testing equipment, signage and LED lighting
Partial Business Use (equipment that is purchased for mixed business use and personal use). Deductions will be based on the percentage of time you use the equipment for business purposes. If you purchase a cinema camera and use it 70% of the time for business, and 30% of the time for personal use, you can deduct 70% of the cost under Section 179.
---
Section 179 Example: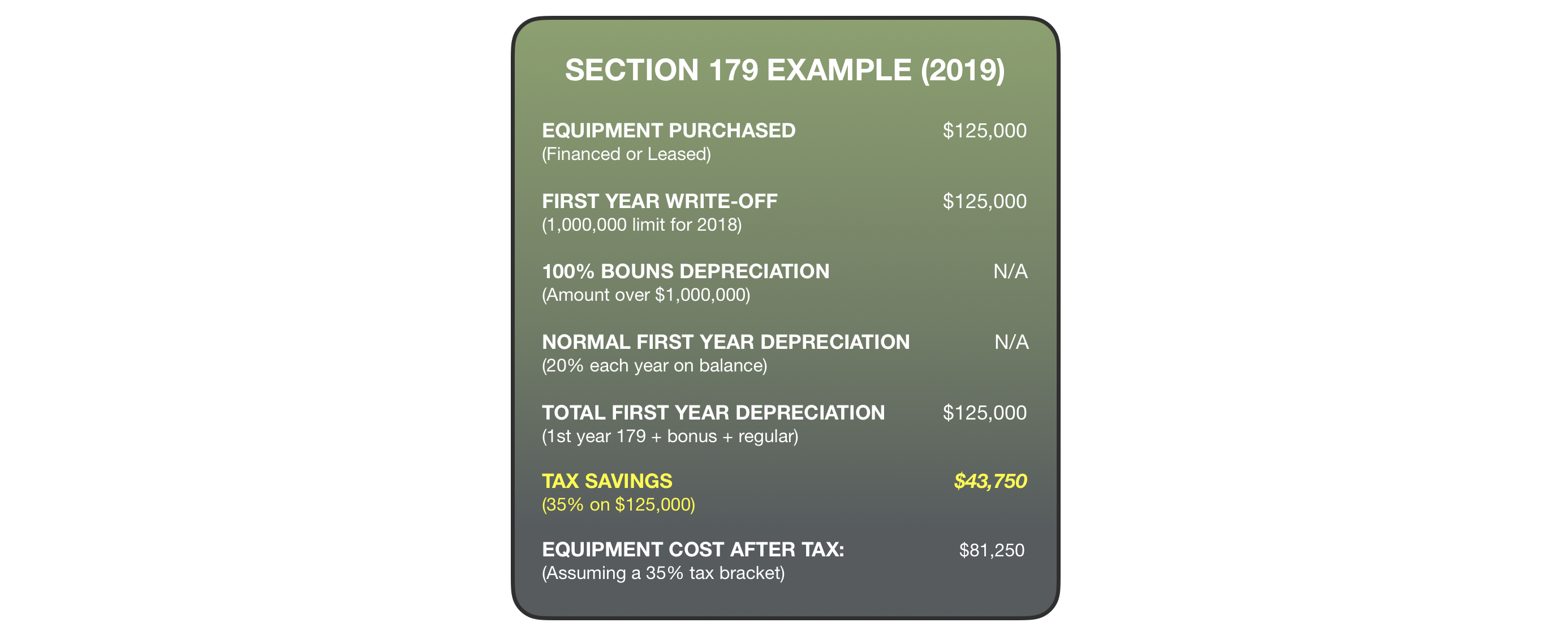 ---